If you have been looking to start a side hustle, one good idea may be finding part-time online work. The internet has a vast network of resources like online job listings, classifieds, and dedicated sites to help you find your next gig. You may have questions on where to start, or even what types of jobs you may qualify for. Thankfully, there are so many options such as captioning jobs for beginners.
What is a Captioning Job?
You may not have heard of captioning before, but this is an opportunity that is growing in popularity, especially for those people seeking a job they can perform at home. Closed captions are an accessibility tool for people who are hearing impaired, or for those who want to clarify what has been spoken during a tv show or movie.
Closed captions go into more depth when it comes to describing a scene like the intensity of the music, or loud noises that might be occurring on screen.
Do You Need Training for a Captioning Job?
While there really is not a rigid "educational path" for training to become qualified for a captioning job, but there are a few things you can do to help yourself.
Typing Speed
It is a really good idea to brush up on your typing skills and focus on speed and accuracy. There are typing courses you can take online that will help you improve your speed and your ability to look away from your keyboard, so you are more efficient when you are transcribing words and sounds into text. You can take a practise test through online sites like:
Rapid Typing
Typing Club
Rata Type
KeyBlaze
Grammar Skills
Learning and refining your basic grammar skills will help you when it comes to spelling and structure. The more accurate you are the easier you will find it to listen to words and understand the proper usage and how to write them.
The easiest ways to improve your grammar skills –
Read more text
Learn through grammar sites/books/online games
Listen to English speech/podcast/talk show
Write
Proofread again and again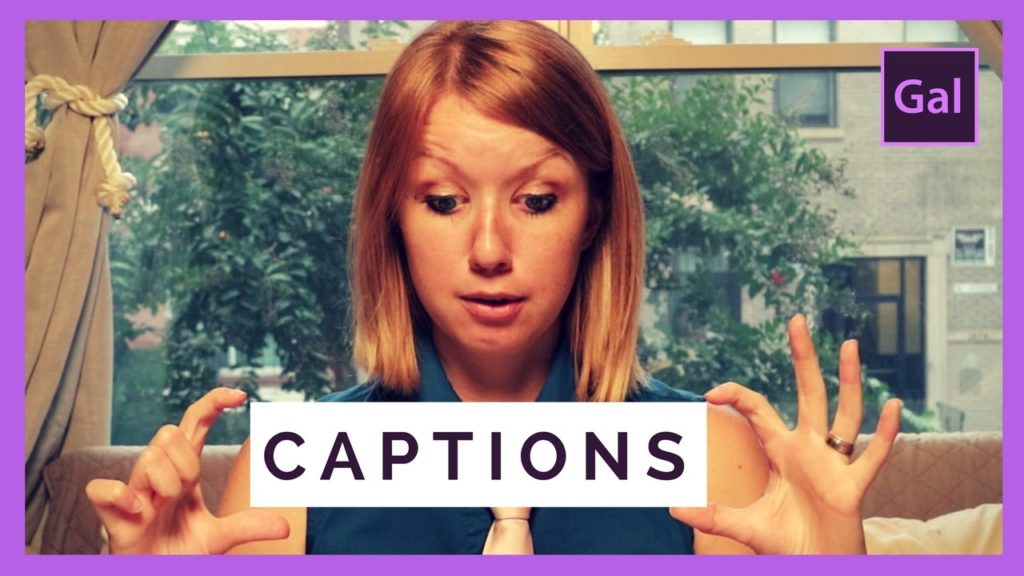 What Kind of Captioning Jobs are Available?
Captioning can be divided at a high-level into two broad categories. Depending on your skill level and work style, you may be suited or enjoy one over the other.
Offline Captioning
Offline captioning refers to having prerecorded audio or video that you will be given. You will listen and watch through this content and then type out what you are hearing. This will require some familiarity and skill when it comes to timing your captions with the audio. If you are fluent in another language you might be able to use that skill and translate while captioning as well as an additional opportunity. This is the type of captioning job that can typically be performed from home.
Real-Time Captioning
On the opposite end of the captioning field is real-time captioning. This has the potential for being a great financial opportunity however, this requires you to attend an event that needs to be transcribed. There is a certain amount of pressure in situations like this as you don't have the luxury of being able to "rewind" the things you are hearing in real-time.
What Equipment do You Need for Captioning?
To begin with your captioning career, you'll need some basic equipment. More than likely you'll need your computer, speakers – headphones are preferred so you can listen to your audio in closer detail as to not miss anything when you are transcribing, and a stable internet connection. There may also be additional equipment that your employer may provide to you such as proprietary software, or even a machine for you to use.
How Much Money Do Captioners Earn?
While typical earnings can vary by state, and especially by the type of project you are working on there is an average. The median hourly wage for a captioner according to the Bureau of Labor Statistics is $28.91. This leaves wiggle room for a lower or in a best-case-scenario, a higher pay scale for captioning work. Many factors will come into play regarding your earnings, like where you work, how often you work, and your skill/experience levels.
Where do You Find Captioning Jobs Online?
There are several places you can begin your job hunt online when it comes to captioning. Here are a few to consider:
If a more traditional job-hunting website is something you find appealing you can always take your search to Indeed. While this is a broader way to search you can refine your results by ensuring you are utilizing the right keywords and terms. You will want to search for "captioning" jobs that are "remote" for the location. Because you will receive a wide variety of results, you'll also want to verify the legitimacy and take caution when applying to jobs this way.
An excellent site for someone just starting out in captioning jobs. There are flat pay rates and they do not require you to have any certifications to begin.
In Conclusion
Captioning can be a great field to make the transition to working part-time or even full-time from home. There are multitudes of clients that are seeking services from people like you who are looking to make a little additional income while providing a value-added service for the entertainment, educational, etc. industries.
With the right skills, practice, and equipment you can set yourself up for success and learn a new trade while you are at it. Captioning jobs for beginners exist and will open the door to furthering your career.