There are plenty of easy ways to make money from home, but some of them aren't really worth your time. Also, some of them can end up being scams that cost you money and time. It's worth doing some research to find the best ones that play to your strengths.
So regardless of whether you're a stay-at-home parent, a student, or someone looking for a bit of extra cash, here are the 20 best legit ways to make money online.
1. Be a virtual assistant
Working as a virtual assistant can end up earning you quite a bit of money, particularly if you've worked as a secretary or assistant before. It's basically the same work that you'd do in a physical job, just online.
Examples of this kind of work include diary keeping, travel planning, reading and responding to emails, and other secretarial work. Obviously employers have the same expectations they'd normally have, so make sure you're punctual and organized. One of the best sites is Zirtual.
2. Work as a freelance writer
Freelance writing can be quite a lucrative way to make money from home. There are plenty of niches available too, such as website copy or blog posts. Depending on the website you use, you can end up with all kinds of varied work.
While it's possible to do this as a full-time job, the pay isn't brilliant to begin with. Expect to have low earnings initially because clients won't expect to pay premium prices until you've built a good reputation for yourself. And, as this is all based on client feedback, make sure you're always professional. Some of the best sites are Upwork and Fiverr.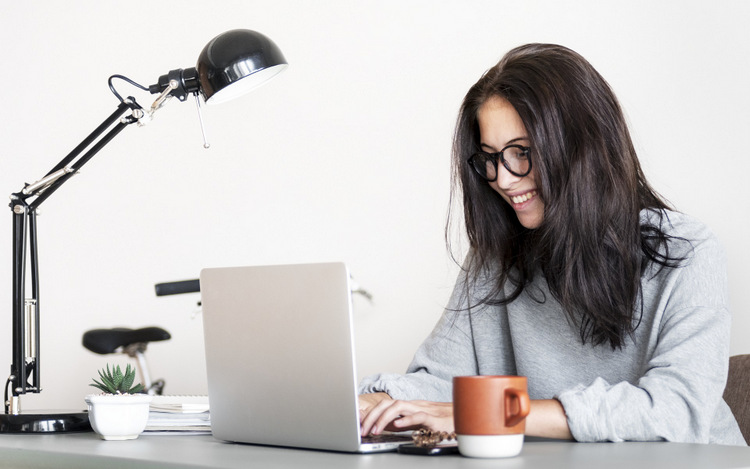 3. Blogging
Blogging is possibly one of the most rewarding ways to make extra money from home, but again it requires patience and a good niche. If you think you've got decent writing skills, then it can be worth trying a blog as a real way to earn money online.
Find your niche, which could be anything that interests you, but creative skills are usually a good choice. Once you've built up a good following, you can try some product reviews or affiliate sales. This is why practical skills are best: many require products that you can test out and endorse.
4. Start an online business
Starting an online business might sound a bit vague, but if you've got a good strategy then it can be an easy way to make money from home. For example, becoming a Fulfilled by Amazon seller basically involves you setting up a page and selling products. Amazon take care of bulk storage, shipping, and returns, meaning you can walk away with easy profits.
Alternatively, you could set up an online business shipping physical products for clients. For example, if there's a large number of artists in your area, you could manage a selling page and handle order shipping in exchange for a cut of the sales. This might sound like quite a bit of work, but if you go about it the right way you can make quite a bit of money online.
5. Work as a transcriber
Working as a transcriber definitely won't be for everyone. Most sites will make you take a typing test to make sure you're fast enough, and most expect nothing less than 100 words a minute. However, if this is something you're good at, and you're confident with your spelling, it can be a good earner.
Sites like Upwork allow you to connect with clients, who will send you audio files that need turning into written speech. Most will ask you to sign non-disclosure agreements, and might expect you to get the work done pretty quickly. But if you're a quick typist with some extra time on their hands, transcribing can be a good way to make money from home.
6. Offer private tuition
One of the benefits of private tuition is that you can do it in person or online, which makes it quite a versatile way to make money from home. Depending on your subject area or the age of your clients, some roles might expect you to hold teaching qualifications.
However, many online tutoring sites will only expect you to hold a college degree in your subject area. A site such as Chegg Tutors allows you to connect easily with potential clients, but there's understandably an application process that you have to pass.
7. Review things online
If you're looking for a relatively easy work from home job, being an online reviewer is a good choice. However, this isn't one of the most legit methods, and some reviewers have been caught out by not getting the item refunded.
Yelp offers paid reviews, and is one of the more genuine options. You can get paid to do Amazon reviews, but this often might be in the form of gift vouchers.
8. Work as a freelance artist
Much like freelance writing, being a freelance artist can be hard work but is rewarded once you've built a name for yourself. It'll often involve work like logo or advert design, or you could do online commissions of paintings.
Websites like Fiverr allow you to connect with a client base, making it a legit way to earn money from home. Alternatively, you could go full freelance and sell your own work on Etsy or Depop.
9. Complete online surveys
Filling in online surveys becomes a reasonable way to make money from home if you've got the time to put into it. The work isn't demanding, but is repetitive, and you don't get paid loads for each survey.
However, they're usually quick to fill in, meaning you can get plenty done. It's a good option if you're just looking for a little extra cash boost. Some good sites include Swagbucks and Survey Monkey.
10. Sell vintage clothing online
If you've got an eye for fashion and opportunities for picking up clothes for cheap, then this can be a good way to make money from home. Essentially, it involves picking up inexpensive vintage items and then reselling them online for a considerable mark-up.
It'll help to have some sewing knowledge so you can repair or upcycle old items. For example, if you've got plenty of local thrift stores, stock up on stuff and turn it into more desirable items. There's been a big push towards sustainable clothing, so get ahead of the curve. Websites like Etsy will be your best friend.
11. Data entry online
If you've got an eye for detail and are quick with a keyboard, then online data entry could be a good way for you to make money at home. It basically consists of clients sending you raw data to be sorted.
Websites like Upwork will be your best shot for this kind of work, but just be aware that you'll need some relevant experience, and some clients might expect you to take a typing test to make sure you're up to speed.
12. Virtual bookkeeping
Much like being a virtual assistant, virtual bookkeeping does the same thing as the physical job, just online. However, many clients will probably expect you to have relevant accounting experience or qualifications.
The amount of money you earn from home will depend on your client base and skill level. However, if you're good at it then it can definitely be done as a full-time job.
13. Sell teaching plans online
While this might not be an option if you're looking for full-time work, selling lesson plans online is a good way to earn money from home if you're a teacher. Some new teachers will pay well for someone else's plans.
A website like Teachers Pay Teachers allows you to sell your work to other teachers, but don't expect to make loads of money. However, this can be a good way to top up your income.
14. Maintain social networks
Almost all businesses are expected to have a social media presence nowadays, but many don't have the time or energy to manage them properly. That's where you can come in, and it's a good way to make money from your experience browsing social media.
While marketing experience is helpful, it's not a must. Websites like Fiverr allow you to build your own reputation, so if you're good at something then there's no stopping you. What's more, you can choose clients that align with your interests, which makes things easier.
15. Test new websites
Web developers are always looking for people to test their websites, and you could get paid up to $30 an hour to do so. All it involves is visiting the website, trying out the pages, and then giving your feedback.
A website like UserTesting records your screen while you visit the website, and counts among its clients companies like Apple and Adobe. If you spend time browsing your computer, why not get paid to do it?
16. Watch videos online
This almost sounds too good to be true, but some websites pay you to watch videos online. This is a really easy way to make money from home, but you don't get to choose the videos you watch.
A website like Swagbucks will give you a list of videos, which you have to like, and then pays you per video. If you've got some spare time on your hands, this is a pretty legit way to make money from home.
17. Complete jobs on Amazon Mechanical Turk
Amazon Mechanical Turk is essentially a crowdsourcing website that posts microtasks to improve the efficiency of the site. This can involve things like correcting spelling, confirming products should be listed under certain searches, and much more.
Not only does this kind of work provide you with flexible hours, but there's no cap on earnings. Sure, you might not get loads for each job, but the money begins to add up after a while. And you're working for a legit company like Amazon.
18. Work as an online travel planner
Working as a travel planner will involve combining skills like blogging and affiliate marketing, but working with holiday packages rather than physical products. Also, because there's not really a website that caters to this, you'll have to go full freelance.
Essentially, start up a blog and write travel guides for locations. Build up a good client base, and then begin promoting experience packages and holidays, using a website like Tripadvisor. Then all you need to do is get a commission for the click-through rate, and you've found a good way to make money from home.
19. Get paid to search for websites
Qmee started up a site that allows you to earn money by searching for terms and then clicking on certain links. Links that are sponsored by Qmee will have a financial reward to them, which you claim by visiting the site.
However, this is relatively new, and the earnings aren't brilliant. But if you've got some spare time when at home, then this can be a good way to make money online if you stick at it.
20. Take advantage of the Disney Vault
While this might not be one of the best earning ways to make money from home, it can be a good way to boost your income. Disney classic films are released in short retail bursts, and often include special edition versions full of extra features. After a short period in stores, these are then recalled and not sold again for another decade. Do some digging online to find more information and snatch them up while you can.
Conclusion
The key to finding legit ways to make money from home is to play to your skills. If you're good at typing, use that, but if you've just got plenty of time on your hands, then use that too!
Be careful to learn the difference between real ways to make money online and scams. Real sites will often pay through Paypal or an equivalent, so refrain from handing over any card details if you're unsure!