Is Swagbucks safe to make money in different ways? This Swagbucks review is going to find answers.
In the age of the internet, there are many ways to make money on the side available at our fingertips.
For those with an entrepreneurial spirit, freelance work is a great way to supplement your current salary. Or even become the main source of income by doing freelance online.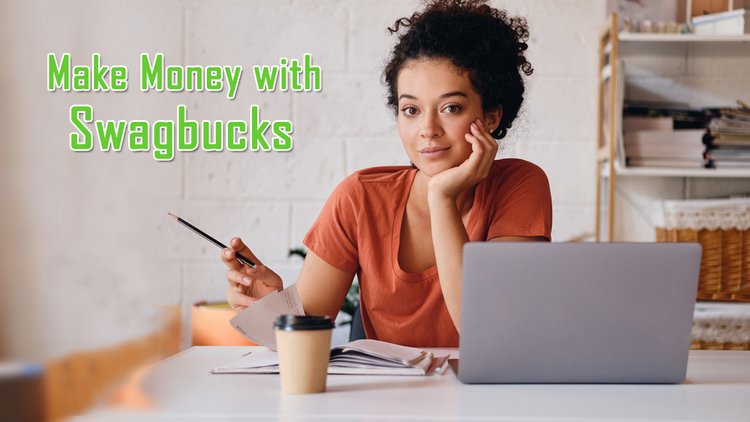 But what about sites like Swagbucks that do not actually require a specific skill set to generate income?
Sites like Swagbucks can often seem too good to be true at a first glance. Swagbucks offers its user's money in the form of points earned by completing simple, unskilled tasks such as watching videos, searching the web and taking surveys online.
These points are attached to your Swagbucks account. Once you have earned enough points, they can be exchanged for cash, gift cards, and other online rewards.
Gift cards come from a wide range of popular and reputable online retailers such as Amazon, Apple, Starbucks, and more. If you prefer to be paid in cash, you will need to connect your PayPal to your Swagbucks account.
The site is secure and totally legitimate. The fact that you can only withdraw money through PayPal gives your financial information an added layer of security, as both sites use encryption software to protect your data.
In this post, we will explore the ins and outs of Swagbucks to better understand how it works as well as twelve different ways you can make money at home using Swagbucks hack.
12 Easy Ways to Make Money with Swagbucks
1. Use Swagbucks to Search the Web
Using Swagbucks as your default search engine is perhaps the easiest way to earn a bit of additional income with Swagbucks.
There are a few ways that you can go about this. The first is to simply visit the Swagbucks site, login to your account, and manually make searches on Swagbucks to gain points.
The second is even easier. Swagbucks gives users the option to install the Swagbucks toolbar in their browser, making Swagbucks your default search engine.
The site is sponsored by major search engines Google and Ask, and the results are generally very similar to what you would receive if you made a search using Google.
However, if you need very specific search results for academic research or business-related tasks, you might want to stick with Google, as the results will be more accurate. For everyday searches, Swagbucks is a great way to make additional income.
2. Complete Surveys
Another common way to make money using Swagbucks is by taking surveys. If you have the time, taking a few surveys a day on Swagbucks can add up to a substantial amount of income.
Survey lengths on Swagbucks can range anywhere from 3 to 20 minutes to complete and generate between 40-100 Swagbuck points.
In addition to the longer surveys, Swagbucks also offers a daily poll for users.
The poll consists of one question and gives users the opportunity to make an additional Swagbuck per day for just a few seconds of their time.
3. Watch Videos
Watching videos is another easy way to make additional income via Swagbucks.
Users will be sent playlists with content from a variety of different media forms for consumption, including news, viral videos, and advertisements.
Each playlist lasts approximately 15-30 minutes and on average provides a payout of 2-3 Swagbucks.
There is a limit of 150 Swagbucks per day earned in this manner, so you can make a significant amount of income just by consuming videos like you normally might do in your spare time.
Read Also: 18 sites to earn money by watching videos
4. Shop Online
Shopping online is another everyday task that you can use to your advantage with the help of Swagbucks.
Swagbucks has partnered with a variety of major retailers such as Wal Mart, Tesco, Macys, Hotels.com and more to offer cash back options on your purchases.
Shopping with these retailers via the Swagbucks site will earn you one Swagbuck point for every dollar you spend.
This can be especially lucrative when you need to make a lot of purchases, such as during the holiday shopping season.
5. Download Apps
Downloading apps and games on your phone, computer, tablet, or other electronic device is a simple way to earn additional cash with Swagbucks.
Generally, these offers will require you to complete a basic action once you have installed the app which ranges from tasks as simple as opening the app and logging in to reaching a stage in the game or depositing money in the app.
Taking advantage of offers associated with free apps is the best way to maximize your profits using Swagbucks, as paying to download apps can be more trouble than it is worth for the amount you receive in return.
6. Complete Daily Goals on Swagbucks
Swagbucks presents users with a daily to-do list containing a list of recommended objectives for the day.
These objectives always come with rewards in themselves, but the real value comes in completing most or all of your daily objectives, which earns users bonus Swagbucks.
Additionally, Swagbucks has a feature called "daily goal" that users can activate. The site will give users a quota of Swagbucks to ern and a bonus if they reach that quota.
7. Enter Giveaways
Swagbucks also offers competitions and giveaways where users have the potential to win big prizes.
If you have a bit of time and luck on your side, entering competitions is a quick task that can result in a huge payout for a modest entry fee paid in Swagbucks.
Past prizes for Swagbucks giveaways have included things like Apple products, large sums of Swagbucks and more.
8. Sign Up for Services Via Swagbucks
Signing up for online services and/ or free trials of online services is one of the methods for making money on Swagbucks with the highest potential payout.
Free services like credit reports and free trials of services are the safest option, as they require no investment on your part for a substantial amount of points in return.
However, if you see any paid services for things like TV and gaming platforms that you would potentially use anyway, signing up with Swagbucks lets you earn some bonus money on this everyday task.
9. Use the Trade-In Program
In addition to its other services, Swagbucks offers a trade in option in which users can send in used valuables like cellphones and other electronic devices for a reward.
Once you have gathered a decent collection of used electronics that you have no use for, send them in for a bonus gift.
10. Refer Your Friends
If you find yourself enjoying Swagbucks service, the easiest way to make even more earnings is by referring your friends to the service.
Swagbucks provides its users with a unique referral code that they can share with friends. When your friend uses your referral code, you will each get 300 points upon signup.
Your points are contingent upon the friend earning at least 300 Swagbuck points during their first month on the site. After this point, you will earn 10% of your friends' earnings with the site.
11. Playing Games
If you are a gamer, Swagbucks is the best website for you. You can earn Swagbucks points (SBs) just for playing games.
12. Free swag codes
Swag codes is another small way to earn SB. You will get alerts about new swag codes on your web browser, or you can also check their Facebook to find Swag codes.
Swagbucks Pros and Cons
There are some advantages and disadvantages of using Swagbucks to make money online. The benefits of using Swagbucks are:
You can earn quick PayPal cash.
It is free to join.
Users can earn rewards for doing daily tasks.
There are several methods available to get rewards.
You will earn points for signing up with bouns.
The drawbacks of doing tasks on Swagbucks:
Lower payouts for some tasks
You need to spend more time to earn little money
You need to wait more than 30 days for Swagbucks points rewarded in your account.
Is Swagbucks Worth Your Time?
It is a time-consuming method to earn a few bucks. Swagbucks is a tedious money making option but a reliable site.
You can make more money if you spend your time on other online money making methods like blogging or freelance websites.
Is Swagbucks Legit?
Yes, It is. Without a doubt, Swagbucks is a legit platform and you can join Swagbucks to earn points. It is a very safe site for earning a few bucks per month. Keep in mind, you won't get rich using Swagbucks. This is a good website for casual free time earners.
Swagbucks Review on other Public Review Sites
Users share their experience and give Swagbucks review rating on customer review sites like Trustpilot and Sitejabber.
Swagbucks review rating overview at Trustpilot. More than 15000 people gave Swagbucks reviews rating.
You can also read Swagbucks review on Sitejabber.
In summary, based on our experience and other customer sites' Swagbucks review, we give an excellent 4.5 out of 5 stars for Swagbucks.
In Conclusion
All in all, Swagbucks is a great way to earn extra income from the comfort of your home. Using these methods is a safe and legitimate way to earn money online.