Are you looking for a way to earn extra money online but don't have time to fit another job into your schedule? Many people will work a full-time job and then, instead of spending time with their loved ones, or relaxing, they will get ready and go work another full shift. If you are looking for a new way to make money online, meet Kashkick – a convenient way to earn money on your time.
How does Kashkick work?
Kashkick allows you to earn money by completing surveys, viewing exclusive offers, and even watching videos. There are a variety of tasks you can perform while being compensated for your efforts. Your time is valuable, so before you complete a survey you can view the approximate time for how long it will take. You can also see how many surveys of a particular kind are available to ensure you don't miss out on an opportunity.
Where do your earnings come from?
Various companies are looking for YOUR opinions and insights, that's why they have decided to pay you for your efforts. After you complete a survey or another task, your earnings are displayed in your account for your review. Your feedback and work are greatly appreciated!
Not only you can earn money by doing online surveys, but also they offer various tasks to make extra cash. You will get paid to watch videos online, surfing the web. And also you can find great deals to save some money. Kashkick is the right one for you to earn PayPal money on your time.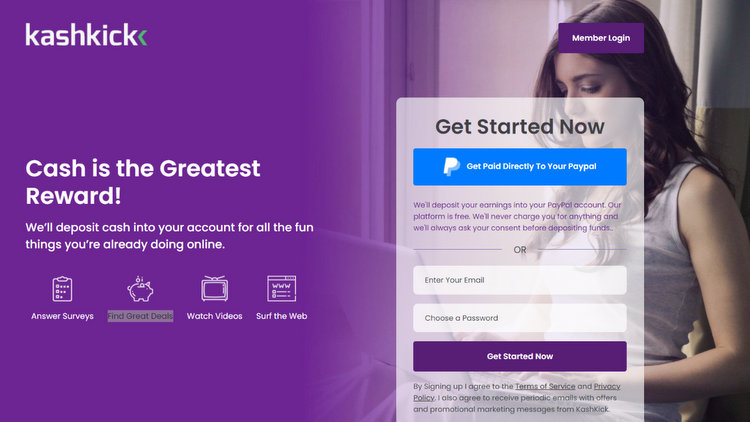 How do you cash out?
Once you are ready to transfer your earnings, all you need to do is navigate to your account and withdraw your money. Kashkick has one of the lowest payout thresholds at only $5.00. Payouts are completed with a convenient, fast, and secure method to deliver your earnings directly to your PayPal account.
Is there a referral program?
Kashkick offers a highly competitive and rewarding referral program. For every friend that joins you will earn 25% of their earnings from subscriptions to advertiser promotions, and when they complete a survey. Currently, there is an additional 5% bonus from those who you have referred as an incentive to start their own referrals.
How much money will I earn?
Your earning potential is in your hands. You can increase your earnings by checking out offers and completing surveys, which means you can realistically make money every day. Checking your email for daily additional messages from Kashkick will be another opportunity for some exclusive rewards and offers.
How can I complete more surveys?
A tip for completing more surveys and earning more money is ensuring that you have notifications turned on. When you log into your account, navigate to your contact information and make sure that you have "Survey Notifications" checked. You will begin receiving notifications when a new survey is ready for you to complete.
How do you get started with Kashkick?
Getting started is easy, simply sign up using your preferred email address. Once you've signed up you will receive a verification email, all you have to do is click on that and you will start receiving additional reward emails. After logging in, don't forget to complete your contact information and update your PayPal email for seamless withdrawals.
Sign up today to begin exploring how you can earn money online with Kashkick.