It's no mystery that the global pandemic is shifting where we work, who we work for and even when we work; the promise of greater flexibility is tempting many people into finding work that works for them, including night jobs from home.
Workers across the globe find themselves in a world where traditional offices and rigid working hours are becoming a thing of the past. Only this week Twitter announced that it won't be asking its employees to come back to the office (Sky News, 2020), with other notable companies likely to follow suit when they realise the benefits of reduced real estate costs for themselves, and increased wellbeing and flexibility for employees. Flexibility is key, and people are looking for ways to work from home in a way that maximises their income and strikes the balance of work, family and leisure.
So away with the old ways of working and in with the new . . . and in a globalised economy, this means that finding new overnight jobs from home could be easier than ever. So, what types of opportunities are there for full time and part-time night jobs? We've listed our top five.
1. Call Centre Work
Global call centres are not a new phenomenon, but the increase in 'virtual call centres' for some of the big banks and credit card companies are a great place to look for night work. Often these roles are serving customers in varying time-zones, so overnight work from home could be the perfect fit. Plus, you can enjoy the benefits of working for an established company with great employee benefits.
2. Social Media Specialist
TikTok, YouTube, Instagram; the world of social media moves quickly, and being in the know can be very lucrative. If you're an influencer, or know how to help others build their following, then this could be the role for you. Again, it lends itself well to overnight work from home, as people from all around the world are looking to boost their brands. You can position yourself as a consultant and promote your work via LinkedIn.
3. Market Research
Prefer to be your own boss? Then finding a night job completing surveys, reviews and secret shopping might be the answer. You'll be making money from your opinion! And even get to try some interesting new products, at a pace that suits you.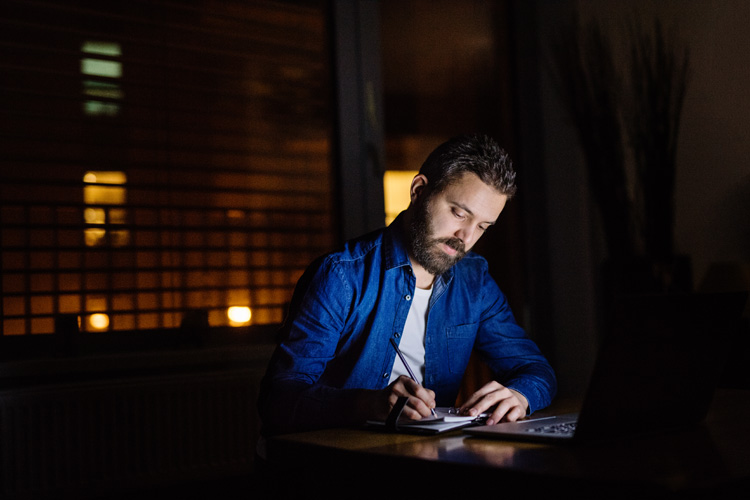 4. Data Entry
Good with numbers? Rather not have to interact too much with people? Then flexible, contract and agency work could be the answer to your part-time night job prayers. These roles often help support companies to fulfil orders 24 hours a day, 7 days a week, so that customers get what they need, as soon as they need it.
5. Writing Jobs
There are some excellent ways of making income from your linguistic, translation or creative writing skills. By registering on any of the popular gig-economy sites, you can offer your services to people looking to talk about what matters to them. The flexibility of an international client base, yet again makes this an ideal night job from home.
Read also: 20 Best Writing Jobs Freelancer Sites
So, whatever your reason for looking for a full time or part-time night job working from home, there's never been a better time to find something that makes the most of your skills and suits the life you want to lead. Happy night-job hunting!